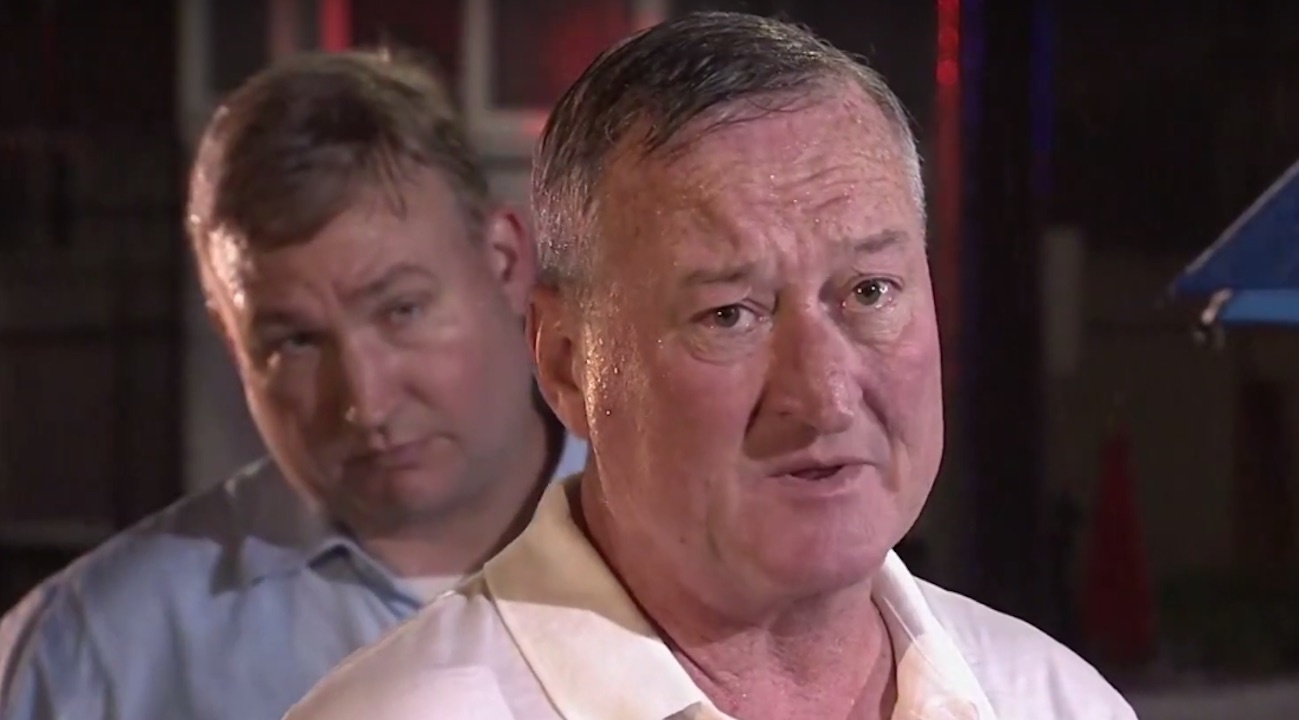 Far-left Philadelphia Mayor Jim Kenney used the shooting of six police officers Wednesday to blast the National Rifle Association and push for gun control.
"Our officers need help. They need help. They need help with gun control," Kenney said during a news conference. "They need help with keeping these weapons out of these people's hands."
The Democrat added that "this government, on both the federal and [state] level, don't want to do anything about getting these guns off the streets and getting them out of the hands of criminals. This guy is clearly a criminal ... he had apparently a long record ... has been involved in the criminal justice system before. And he was able to get these weapons and a large magazine, a large amount of bullets."
More from Kenney:
So whether it's our six officers who were shot, or it's some 15, 17, 20-year-old kid on the streets of Philadelphia who gets shot with guns that shouldn't be in people's hands ... it's aggravating, it's saddening, and it's just something we need to do something about. And if the state and federal government don't want to stand up to the NRA and some other folks, then let us police ourselves. But they preempt us on all kinds of gun control legislation. Our officers deserve to be protected, and they don't deserve to be shot at by a guy for hours with an unlimited supply of weapons and an unlimited supply of bullets. So it's disgusting ... we need to do something about it quickly.
Fraternal Order of Police President John McNesby spoke after Kenney, KYW-TV reported, and said, "We can't have this. Too many guns out there."
All six officers who were shot were released from the hospital, the station said.
'Astounding' That Officers in Gun Battle Weren't Killed, Philly Commissioner Says youtu.be
What do we know about the suspect?
Police sources told the Philadelphia Inquirer the suspect in the shooting is Maurice Hill, 36, who has long history of gun convictions and resisting attempts to bring him to justice.
The standoff began Wednesday about 4:30 p.m. when a Narcotics Strike Force unit tried to serve a search warrant at a house on the 3700 block of North 15th Street, the paper said. The suspect opened fire at that time, KYW-TV reported.
What else has Kenney said and done?
Just before Christmas last year, Kenney called on store owners to remove "realistic" toy guns from shelves.
The mayor said in July 2018 that Philadelphia no longer would grant ICE access to its real-time arrest database, saying the agency has abused it to target illegal immigrants who aren't committing any other crimes.
He also noted that he stands for the national anthem because he's a "privileged white male" and called President Donald Trump a "fragile egomaniac obsessed with crowd size" over the president's decision to rescind the Philadelphia Eagles' invitation to visit the White House after the team's 2018 Super Bowl win because the Eagles decided to send only a handful of players.
After police confirmed that a suspect who attempted to "execute" a Philadelphia police officer in 2016 claimed to have done so in the name of Islam, Kenney told reporters the attack wasn't connected to Islam in any way.